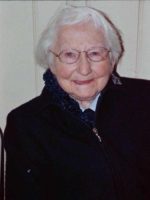 Nancy Elizabeth
BIDSTRUP
(E2.7.3)
Born: 27th May 1930 Prahran, Victoria
Parents:
Ernest Oliver and Lizzie Marie (Betty) Bidstrup
Lived:
Broadford and Geelong in Victoria, Australia
Died: 30.6.2017
Buried: Broadford cemetery. Friday 7th July 2017
Celebration of the life of Nancy Elizabeth Bidstrup
                        27-5-1930 to 30-6-2017
Prahran
Nancy was born in 1930 in the City of Prahran, not far from where her maternal grandparents lived in Caulfield. Her mother, Lizzie Bidstrup, was 42 years old and her father Ernest 43. Nancy was the third child and only daughter.
'Annadale'
Nancy grew up on the farm at 'Annadale', undertaking her schooling at the Sugarloaf Creek School. Like her brothers, George and Alan, she participated in farm life, including riding horses. Her senior years of schooling were at Firbank Girls Grammar School in Brighton.
Brother George:
Towards the end of WW2 she tragically lost her oldest brother George, a flight officer with the RAAF, to a plane crash in the Barrington Tops.
Home Life and Travels:
After finishing schooling Nancy returned home, assisting her mother. She would travel with her father and mother, including visits to her Uncle Walter and cousins in Queensland. It would have been quite an undertaking considering the likely state of the roads in the late 40's post war and the 1950's. They would also make an annual event to go to the Royal Melbourne Show, often staying at St Kilda or with Uncle Finn and Auntie Fanny in Ascot Vale. Cousin Frances, Uncle Finn's daughter was a frequent visitor to 'Annadale'. Nancy had a nasty fall from a horse at one stage and badly fractured her left elbow, an injury that bothered her until her death.
Mother Lizzie:
By the late 50's her mother's health had become quite bad, suffering from severe arthritis and asthma, and Narycy nursed her mother at home until Lizzie's passing away in 1961.
Father Ernest:
During the 1960's through to the early 80's Nancy took care of her father Ernest and held the fort while he went to innumerable meetings (many years president of the Broadford and Pyalong Shire councils, member of the water works trust in Seymour etc). She was a great maker of plum-puddings and yoyo biscuits, and knitted jumpers and other things for her nephews.
Outside Interests:
Her outside interests included photography and travelling. She travelled around parts of Australia and also overseas to Fiji. Nancy was quite active with the local CFA, supporting the crews by manning the radio etc. She was also a member of the St John's Ambulance and donned the uniform many times.
Father Ernest final years:
During the early 1980's , due to his failing mobility, Nancy's father Ernie had to move in with her brother Alan and sister-in-law, Esme'. Nancy was no longer able to manage him, having considerable back pain which required a back operation (she had a laminectomy in 1983). Ernie sadly passed away in 1985.
Geelong:
Nancy inherited 'Barrington', their home at Broadford, and a significant portion of "Annadale" from her father. Wantjng a new start, she sold Barrington and her stake in Annadale and moved to Geelong where she bought a house in Mt Pleasant Rd, Belmont. It was to be her home til her passing in 2017.
In Geelong Nancy connected with some of her old friends and her cousin Edna Pritchard (nee Bidstrup). She also joined the Highton Anglican Church and became one of their community. In the 90's she took some sewing classes in Geelong.
Medical Troubles:
Nancy's medical woes were extensive:
Current Medical History: *
12/05/2015 Hip Pain – Left. Osteoarthritis of many joints including left hip and both shoulders and elbow. Rheumatoid arthritis of hands and feet.
31/03/2015 Pancreatitis
03/01/2012 Anaemia Of Chronic Disease
10/11/2011 Atrial Fibrillation
10/10/2011 Mild Lvf 49% Ef, ,mild To Moderate Mi
11/05/2010 Chronic Renal Failure    .
? 2010       Fusion of right ankle.
26/09/2005 Lvf (Left Ventricular Failure)
26/08/2005 Hyperthyroidism
26/08/2005 Cardiomyopathy – Dilatation
01/04/2003 Gord (Gastro-oesophageal Reflux Disease)
01/12/1999 Arthritis Knees And Hips*
13/10/1998 Osteo arthritis Knees/Ankle/hips/hands/back (Right)
13/10/1998 Gastritis
pain management
inguinal hernia or hip pain
Generalised Weakness
ankle edema *
Past Medical History:
17/12/2007 Knee Replacement – Right
26/04/2007 Mva
26/04/2007 Fractured (R) Tibial Plateau
10/05/2006 Hyperthyroidism – Radioactive Iodine Therapy
09/03/2006 Cataract Removal & lol Implant – Left
12/01/2006 Cataract Removal & lol Implant – Right
2001 Knee Replacement – Left
22/03/2000 Carpal tunnel – Ulnar Nerve Palsy – Left
1997 Thr (Total Hip Replacement) – Right
1983 L4/5 Laminectomy f
1959 Septoplasty Of The Nose
1959 Osteotomy Antrums (middle ear infection)
As a child Measles, left elbow fracture.
          Nancy Bidstrup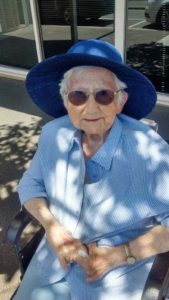 Travels:
While in Geelong Nancy went on many trips around Australia and also visited New Zealand. She made extensive photo albums of her travels. It was a great disappointment to her later in life that her mobility became so poor that she was unable to travel anymore. To her that was the end of her worthwhile life.
Final Years:
The last few years have not been kind to Nancy. Sadly she was not good at making the best of her bad situation. Nancy stayed at home way past when she would have had a better life in a nursing home. For the last three years she has very vocally expressed her wish to pass to the next life. On Friday 30th June 2017, after fracturing her left hip 9 days before, she was finally granted that wish. May she rest in peace.
                                                            © George, Ian and David Bidstrup