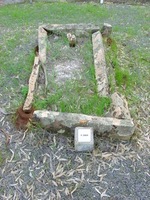 Hermann Traugott
Zwar
(C9)
Born: 7 March 1876 on the St Kitts farm, the oldest of twins.
Parents:
Peter and Magdalena Zwar nee Petzold
Lived:
St Kitts, South Australia
Died: 3rd July 1877 as a result of measles. Aged one year and four months.
Buried:
Detailed biography
Hermann Zwar was the only one of ten children of Lena and Peter Zwar to die under the age of 80 years.
Burial
Hermann Zwar was buried in the cemetery of St Peter's Lutheran Church at St. Kitts.