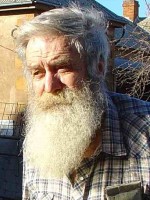 Lloyd Malcolm
Borgas
(C6.2.4)
Born: 17 September 1931 (Twin) Wirrabara, South Australia
Parents:
EMIL and AGNES BORGAS nee Zwar
Lived:
Borgas Homestead, Wirrabara, South Australia, all his life.
Died: 31 July 2014
Buried: 6 August 2014 Wirrabara Cemetery following service in Zion Lutheran Church
Eulogy for Uncle Lloyd
by Heather Borgas    6th August 2014
Today I would like to take a little time to remember Uncle Lloyd as not the old
man we bury here today, but as a child, a teenager and for most of his life a large
fit active man.
Childhood
Uncle Lloyd was one of 5 children, inclusive of two sets of twins. Life was tough for kids of this generation. Farming life was a hard slog, children were given no choice but to help out, and from an early age expected to work.
The Farm
The farm in its heyday consisted of a massive fowl yard with geese, chooks and
turkeys.
There were sheep, horses and the cows needed to be milked before a 2 mile walk
to school.
High School
Uncle Lloyd went to Gladstone high school, the bus left the garage around 8 am.
The 1s' bus had a gas producer on the back to run it as this was the war years and
there was a shortage of petrol.
One day when Uncle Lloyd didn't do his homework his teacher asked him how
far away Ron lived, trying to ascertain if they could share some textbooks.
When asked by the teacher just how far away Ron did live, Uncle Lloyd simply
replied "not far".
Apparently it was a long time before the teacher found out that they were twins.He left school at 14.
Farming
His teenage years were spent working on the farm and shearing. The 3 brothers started share farming in the 1950's until Uncle Arnold and later

Dad (Lloyd's twin brother) were married and Uncle Lloyd then ran his own farm.
Christmas
For a long time Christmas day was held at the homestead. The large extended
family would gather and lunch was served on the big trestle table. Those days are precious memories for us now.
Football
Uncle Lloyd played football for Wirrabara for many years,
He helped his brother put a bore down on the footy grounds to water the oval,
and he helped to build the first clubrooms.
Bowls
Uncle Lloyd helped to build the Wirrabara bowling green, they cut brush to
make a fence and he started playing as soon as the green was ready. He played for
many years, and was possibly the longest serving greenkeeper the club has ever
had. He won several championships and remained a life member of the bowls
club, only giving up the game when those hips of his said "no more".
Active
Uncle Lloyd was a kind quietly spoken man who was an active member of the
Lutheran church for most of his life.
He travelled extensively around Australia, visiting friends and relatives.
In the 1970's he went on a ship to Japan for the Olympic Games in Tokyo, and in
the 1980's made the big trip to visit England and Scotland.
Sheepdogs
There are a couple of things that I would especially like to make mention of
today.
One is of Uncle Lloyd's deep affection for his working dogs. Some of the dogs I
remember were the sweetest dogs ever and certainly this man's best friend. It was
a lucky puppy that got picked from a litter by Uncle Lloyd.
Whiskers
And finally I must make mention of Uncle Lloyd's beard, which is legendary in
our family, earning him the nickname "whiskers" from his brothers.
No nephew's attempts at a beard ever got remotely close in competition to Uncle
Lloyds.

The beard made its debut in the 1950's and has only been known to have been
shaved off twice. He was the first player in the northern areas football association to
play with a beard.

A trendsetter well before his time.
The last time Uncle Lloyd had a shave was March 1962, in his duty as best man at
Mum and Dad's wedding. Mum was never going to allow that beard in her
wedding photos.
I suspect Uncle Lloyd was none too pleased about it, but off the beard came and
was no doubt on it's way back by the time Mum and Dad were on their
honeymoon.
I guess every niece and nephew had a good pull on that beard. As one of the
youngest I certainly remember sitting on his lap and shoving his beard up into his
face repeatedly. Mind you I can't ever remember being allowed to put ribbons in
it; he was a kind man but not that kind.
Farewell
A lot of us have travelled a long way to be here today and I thank you all for
coming to help our family say farewell to a brother, a twin, an uncle, a friend and
a kind man, Lloyd Malcolm Borgas.
Rest in peace Uncle Lloyd.
© Heather Borgas
LLOYD BORGAS AND OLD TREASURES
Kevin P Zwar
Lloyd Borgas had a great sense of history. A visit to his home was in some ways like stepping back 100 years! For example, Lloyd cared for the lounge seating of his  grandparents Peter and Minna Zwar who married in 1894.
Photos
Lloyd kindly lent me a carton of loose photos, and a small album, many of them old photos from his mother and grandparents.
Many of the people on these photos I didn't know, but 148 had names on the back of the photos. I scanned 233 photos in high resolution onto C D's for safe keeping, and sent copies to relatives including Joyce Schmidt (nee Zwar), Ralph Zwar, and Rhonda Traeger (nee Knauerhase) who were able to help in identifying a number of people in many of the remaining photos.
The Original photos were then returned with special thanks to Lloyd.
Over time I hope a number of these photos will be added to the becker-zwar.com website.
Kevin P Zwar