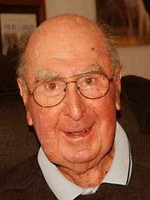 Desmond Laurence Gaudin
Zwar
(E6.3.1)
Born:
Parents:
Raymond Albert and Linley Cecille Zwar nee LeQuesne
Lived:
Beechworth, Victoria, Australia. London, Great Briatain. Cairns, Queensland, Australia. Beechworth, Australia
Died:
Buried:
Detailed biography
For a deep insight into the Life of Desmond Zwar I think one can do no better than to read his book "The Queen, RUPERT & me".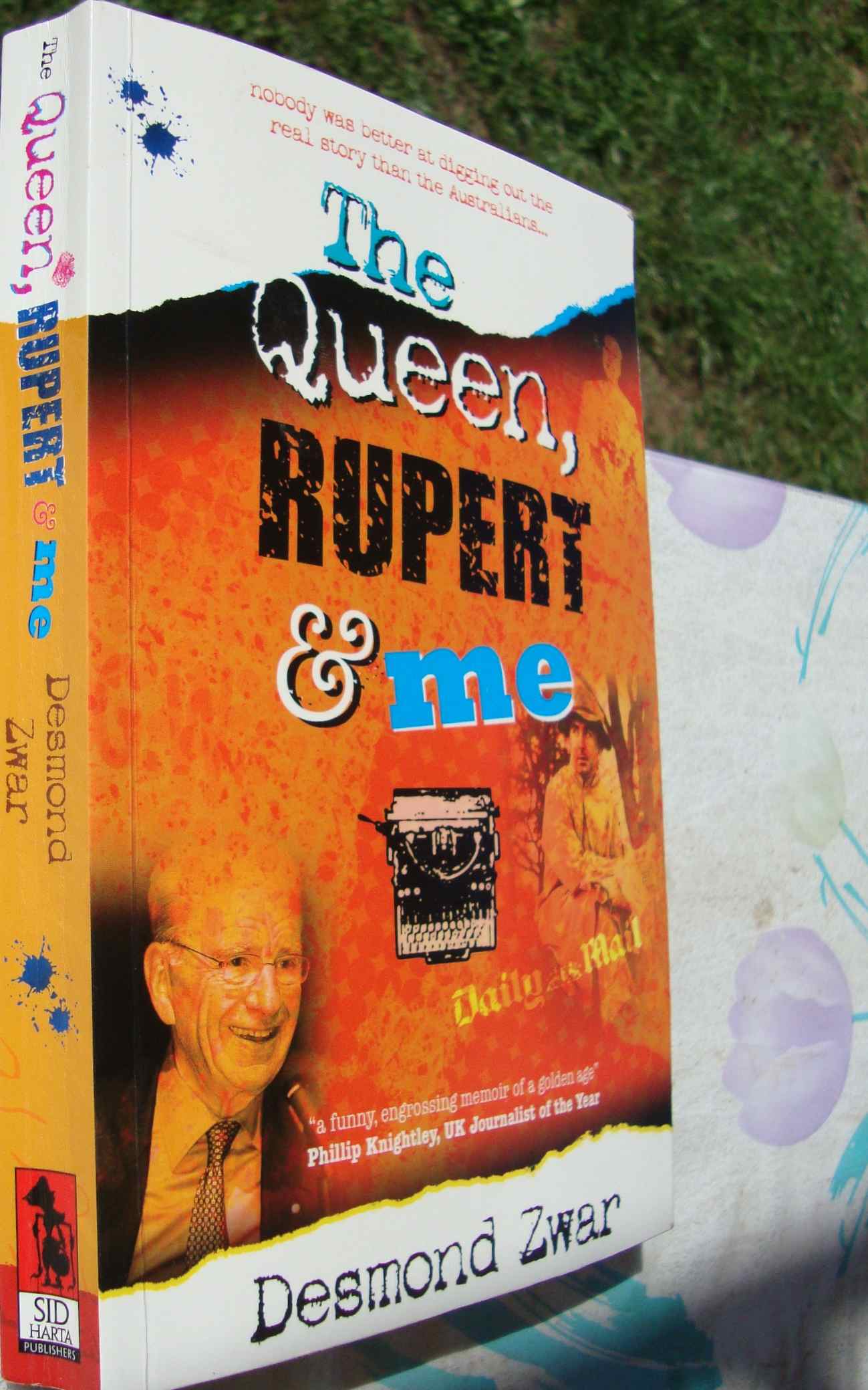 If you would like to purchase the book, write to:
PO Box 558
Beechworth,
Victoria, 3747
Australia
(cost $15 including postage – within Australia only).
Rudolf Hess
Desmond Zwar was the only journalist ever to interview Rudolf Hess, the Deputy Führer to Hitler until 1941 when he flew to Scotland in an alleged attempt to negotiate peace with the Allies.
The image below shows some of the questions put forward by Desmond Zwar to Hess, and include Hess' handwritten answers.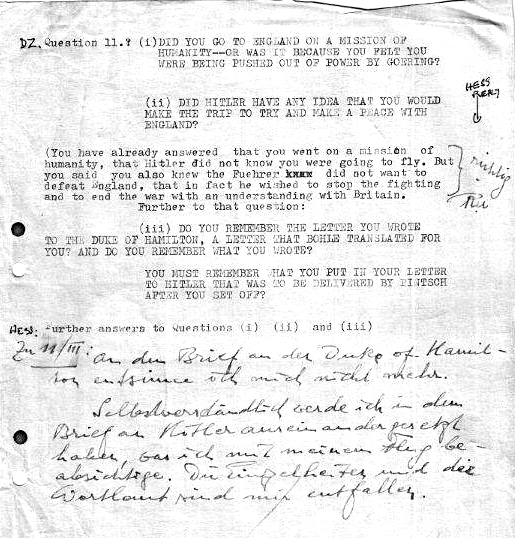 (Questions by Desmond and handwritten answers by Rudolf Hess
Introduction
Desmond Zwar began a newspaper cadetship on the Albury Border Morning Mail, and then moved to The Herald, Melbourne, to be employed by the late Sir Keith Murdoch. He was to write Sir Keith's Life 30 years later.
He went to Fleet Street, London, and joined the London Daily Mail, where he worked as reporter, foreign correspondent, feature writer and latterly acting as Features Editor, remaining with the paper for 11 Years.
He had his own features service in London and concentrated on newspaper and magazine non-fiction series for Sunday newspapers and women's magazines. He was Australian columnist for the UK Mail for four years. He worked in Public Relations with a leading Melbourne PR company and latterly had his own weekly newspaper.
Non-fiction
Desmond has written 16 non-fiction books, most of them published internationally:
The Infamous of Nuremberg, written for Col. Burton C Andrus, Published in 1969 by Coward-Mccann, Usa, Leslie Frewin, Uk; and in several European countries.
This Wonderful World of Golf, with Peter Thomson, Published in 1969 by Pelham Books, UK.
The Loneliest Man in the World – The Story of Rudolf Hess's Imprisonment, written for Col. Eugene Bird, Published by Viking Usa, Secker & Warburg, Uk, and in 10 other countries.1974.
Vet in the Clouds, with vet Don Lavers, published by Granada UK. 1978.
In Search of Keith Murdoch, published by Macmillan, Aust and Uk. 1980.
The Soul of a School, published by Macmillan, Aust. 1982.
New Frontiers of Medical Research, published by Stein & Day, Usa, and in Japan.
The Magic Mussel – The Story of a Natural Arthritis Treatment, published by Ideas Unlimited, Aust., 1983.
The Dame, published by Macmillan, Aust., 1984.
The Ma Evans Baldness Cure, Woodland Books, Usa, 1984.
Golf – The Dictionary, Published by Sun Books, Aust., David & Charles, Uk, Tomas Books, Germany, 1984.
Doctor Ahead of His Time – The Life of Dr. Ainslie Meares, Psychiatrist, published by Greenhouse Publications, 1985.
The Mad, Mad World of Unisex Golf, published by Ideas Unlimited, Aust. 1990.
Disgrace! The Saga Of The Downfall Of Medical Hero, Dr.William Mcbride.
The Queen, Rupert & Me – a Reporter's Extraordinary Life, Sid Harta Publishing.
Talking to Rudolf Hess, The History Press.
Contac
Contact us if you would like to contact Desmond Zwar.