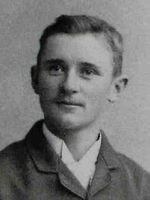 Carl "Charlie" Hermann
Zwar
(C10)
Born: 7th March 1876 the youngest of twin boys, on St Kitts farm, South Australia
Parents:
Peter and Magdalena Zwar nee Petzold
Lived:
St Kitts, Appila, and Wirrabara, all in South Australia
Died: 24th April 1976, aged 88 years.
Buried:
Detailed biography
Click here to view the Charlie Zwar Photo Album

The Last of ten children
After eight children Peter and Wilhelmine Zwar completed their family with twin boys, Hermann and Carl Hermann Zwar. The twins were born on the St Kitts farm on 7th March 1876. When they were nearly 16 months old Hermann died from measles. The remaining nine children would each live to be over 80 years old.
Moving Out
When he was three years old Carl's oldest brother Ernst married. The same year his oldest sister Maria married Johann Joppich and the couple moved to Wirrabara in the mid north of South Australia.
The Move North
Carl's father was planning to move North where land was being opened up for farming. It seems likely that Carl's next oldest brother Johann [John] had also moved north to Booleroo Centre about this time as his father Peter Zwar Snr had bought land [section 99] near Booleroo Centre in 1877. Several years later Peter bought section 209 near Wirrabara.
Age five move north
A week after Carl turned five the remaining family moved north in 1880. Three months later Peter bought sections 110 and 131 near Appila and the Zwar family lived on this farm for the next 25 years in a house that Peter built. Carl would live here for the remainder of his childhood and all his teenage years until he married in 1905, aged 30. The young couple settled in the Wirrabara District. Carl was the last of the family to marry, and his parents sold their Appila farm the same year and moved to Wirrabara to retire on the land Peter had bought in 1879 [section 209].
Life on the Farm
In 1890 Carl's father Peter wrote a letter to Germany and described the good life they were enjoying on the farm. There was a plentiful supply of meat. They killed two or three steers each year and about six or seven pigs. They had everything they needed. They could eat cake every day of the week (and not just on Sundays). He wrote that four of the boys were still at home. The youngest [Carl] was 15. One son worked with 8 horses to plough and pull the wagon, and another worked with 6 horses.
"We now have two 3 furrow ploughs, one even throws the stones out… We also have three 2 furrow ploughs and three single, twenty four [sets of ?] harrows, three wagons, 2 German ones, 2 implements, one for sowing, then the jinker with 2 wheels in case Lena or somebody else wants to go somewhere quickly with only one horse, then we have a special buggy which holds 6 – 7 people; we use it to go to church. We also have 15 working horses and two for riding…..We also have our own forge. Our fourth son [Peter] is the blacksmith who does all the smithy work for us…We have 60 to 70 poultry."
A year later Peter writes,
"There are 21 horses in the paddock. We have about 80 head of cattle so that each year we butcher 2 or 3 steers as well as 6 or 7 pigs. We lack nothing. Our last harvest was very good. We had more than 1100 bags of wheat. One bag weighs about 260 to 280 pounds."

Charlie Zwar

Gunpowder Accident

The Lutheran congregation was the centre of their social lives. One Sunday Peter and Magdalena had gone to church at Appila (Pine Creek) in their buggy and pair. Their son Carl and one of the other lads had stayed home and were experimenting with gunpowder. Carl put a tin over the gunpowder as it exploded and it blew his thumb off. They wrapped his thumb/hand in a sheet, made their way to the church, walked down the aisle in church during the service and showed his parents! They quickly took him to the doctor in Booleroo in the buggy and pair! It was said that whenever Carl had his photo taken he made sure his left hand was held so that no one noticed the missing thumb.

Martha and Charlie Zwar

Marriage

Carl married Martha Franziska Dettmar on 6th June 1905 in the Appila Pine Creek Lutheran Church. Martha's parents lived in Solomontown where they ran a store. Martha was a talented photographer and would take many 'glass plate' photographs of people and sites in the Wirrabara and neighbouring Districts.

Melva, Martha, Charlie nursing Otto, and Carl Zwar

Family

Carl and Martha had three children. Carl, Melva and Otto. Otto was named after his father's twin brother who had died as a two year old. Tragically their own Otto died when he was three years old.
Orchard
Carl and Martha developed a large orchard on their property.
Timber Mill
Carl became the owner of a timber mill in Wirrabara.
[To be continued]