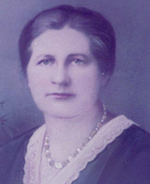 Emma Cecilia
Becker
nèe
Zänker
Born: 12th August 1885 Pekina, South Australia
Parents:
Johann Friedrich Hermann and Pauline Elisabeth Zänker nee Noske

Married:
Gotthilf Benjamin Richard Becker 3rd October 1906 Pine Creek Lutheran Church, Appila, South Australia

Lived:
South Australia
Died: 6th August 1983
Buried:
Link to Family Tree.
Detailed biography
I am still working on the detailed biography.
Contact us if you have any suitable material to contribute.