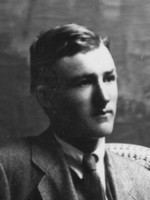 Albert Heinrich
Saegenschnitter
Born: 6th February 1904 Caltowie Extension. 5th child
Parents:
Gustav and Lydia Saegenschnitter nee Becker

Married:
7th February 1935 Flora Gertrude Kalish

Lived:
Caltowie Extention near Laura, Laura, Barossa Valley.
Died: 13th August 1975. Tanunda. Buried in the Langmeil cemetery, Tanunda, South Australia
Buried:
Detailed biography
The following biography is the work of the late Dean Saegenschnitter, who collected and compiled 'Before and After', a Family History of the Saegenschnitter descendants of Auguste Emilie Lydia Becker and Carl Friedrich Gustav Saegenschnitter.
Permission was given by Deans' family to publish the biographies which he called 'Backgrounds'.
Early Years
Albert was born on the 6th February, 1904 at Caltowie Extension, and was baptized on 21st February of the same year in the Pine Creek Lutheran Church by Pastor Adolph Ortenburger. Unfortunately Albert lost his young sister and mother in 1908. His two older sisters would have looked after the three boys and their father, until after their father remarried in 1909. Some time later the girls went to live with Aunties of the Becker and Wegner families.
School and Church
There is a photo showing him attending Pine Creek Lutheran School. Albert was confirmed in the Pine Creek Lutheran church on 3rd November 1918 by Pastor Ortenburger. Later he attended the Youth Group and was involved with the choir.
Another Farm
The parents purchased another farm approximately 3 miles south, this was soon after the Father's remarriage, but they did not live there till around 1932-33. After the family moved, Albert stopped at the old homestead and batched until his marriage.
Marriage
On one occasion when he visited his sister at Sandleton, and the various cousins in the Sandleton and Stonefield districts, he met Flora Gertrude Kalisch, and he married her on the 7th February, 1935. Their reception was held at Mrs. Seiboth's at Eden Valley. The couple then moved back to the farm where Albert had been batching for the last nearly three years.
The Best Years
The next 10 years were the happiest of his life. His wife, being brought up on a farm, was a great helper, especially with animals and birds, particularly birds, for she always had a good collection of these. During harvest time Gertie worked out in the paddock with Albert bag sewing etc. During this time it was not uncommon for drovers to take sheep along the 3 chain road; this ran along the side of their farm. Albert had a bore, which the drovers used for their horses and sheep.
Gentle Nature
Often his young brothers would visit on Sundays on their motorbike and this provided great enjoyment for all. Albert who had a gentle nature, loved mixing and talking with people, especially going to sales and also visiting friends at their homes,
Laura
Unfortunately in 1944 due to drought they sold their farm and moved into Laura where they purchased a small 3 acre property with a house. On the block he put down a bore. This enabled them to have a good garden of fruit trees, vegie's. As well, a good portion was planted with Lucerne. This was for the fowls and cows. The milk from the cows was sold to the Golden North factory. Albert worked at the Laura Flour Mill, delivering chaff and flour to Port Augusta, Quorn, Wilmington, and Port Pirie. Due to his good nature he was always last to get started and always late home.
Barossa Valley
In 1952, Albert and Gertie decided to move to the Barossa, there buying a small house on a deep block. Albert worked in the mill at Tanunda, but soon found that flour dust affected his health. He then joined the Highways Department at Nurioopta, remaining there until health and memory deteriorated by 1968.
Last Years
He initially was cared for by Gertie, then was admitted to the Tanunda Hospital and later to the Home for Incurables. It was here that he died in the 13th August 1975. He was buried in the Langmeil cemetery inTanunda. Gertie continued to live in the home until November 1975, when she sold the house and moved into daughter Doris's self contained flat.
© Before and After by Dean Saegenschnitter