Agnes Cecelia
Bucklow
nèe
Noske
Born: 6 June 1883
Parents:
Carl and Henriette NOSKE nee Leske

Married:
John Bucklow 1915

Lived:
Hughs Gap and Port Pirie in South Australia. Melbourne, Victoria.
Died:
Buried:
Detailed biography
Youngest Child
Agnes was the 10th and youngest of ten children born to Carl and Henriette NOSKE nee Leske.
She grew up in their home at the base of Hughes Gap (between Laura and Crystal Brook) in the mid north of South Australia. One can still see some stone ruins of the house among Pepper trees on the southern side of the highway at the base on the eastern side of the Gap.
We know little of Agnes' childhood.
However we have an interesting event in her life recorded in the Port Pirie newspaper, The Recorder.
A Port Pirie Lady Swindled.

In last Saturday's issue of the Recorder it was mentioned that a man giving the name of " John Buckley" had been arrested in Melbourne on a charge of having defrauded a young lady of Port Pirie of certain sums of money.

The facts are that Miss Agnes Noske, of Port Pirie, has recently been receiving telegrams from Melbourne, signed "John Buckley" asking for money.

The name signed was that of a friend of Miss Noske, and, thinking that he might have met with bad luck and be in need of help, she responded to the call. Between Sept. 23 and 6th instant she sent two amounts of £1 10s and £2 neither of which were acknowledged; but when she received another telegram asking for £3 her suspicions were aroused, as she knew that Mr John Buckley would be most unlikely to seek assistance from anyone, as he was industrious and always in work. Moreover, he had relatives in Melbourne who would help him if he required aid.

Miss Noske mentioned to the police here that she thought someone was using Mr Buckley's name. Detective Noblett made inquiries, the Criminal Investigation Department, Melbourne, was communicated with and Detectives Manning and M. Williams were detailed to looked into the matter. It was arranged that Miss Noske should send a registered letter addressed " Mr John Buckley, Fitzroy Post Office," which was the office from which the suspected telegram had been des- patched. The detectives waited at the Fitzroy Post Office for three days before the man appeared. On Thursday he arrived, and asked for a telegram addressed to John Buckley. He was handed the registered letter, and was asked at the same time whether he expected it. He said he did, and formally claiming it, signed a receipt.

The detectives then approaching him, asked if he was John Buckley. He said he was. He was then asked to open the letter and read it. This he did and found that it set forth that the money would be sent if he required it, but for the sake of safety it would be addressed to his sister. The man who claimed to be Buckley was not able to tell the detectives the address of John Buckley's sister, and began to flounder when questioned. He admitted having sent all the telegrams, and having received the money. He also admitted that he was not John Buckley, but said he had been authorised by Buckley to collect his telegrams and letters, but he could give no account of Buckley's movements beyond the fact that he had travelled with him on a boat between South Australia and Melbourne. He was then locked up and charged with forging telegrams, and with obtaining a letter by false verbal representations.

Accused gave the name of Alexander Williams, and said that he had come over from West Australia for the Cup carnival.

Miss Noske, who was employed as a shop assistant in Port Pirie, left on Monday for Melbourne to give evidence.

The accused Williams was working on the wharfs here for over 12 months.
Port Pirie Recorder and North Western Mail (SA : 1898 – 1918), Sat 31 October 1908, page 4
Marriage
Agnes and John Buckley were married in 1915 and would spend the remainder of their lives in Melbourne.
A Lively Character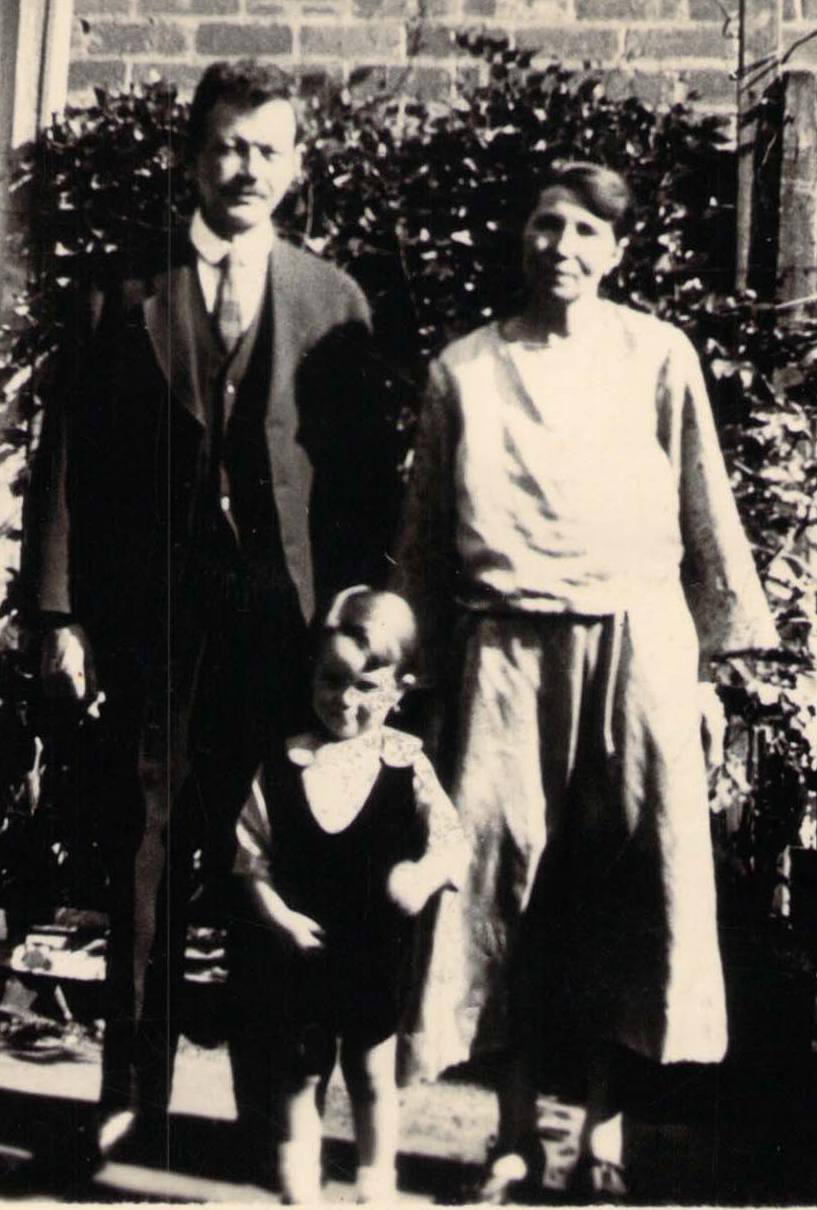 The Bucklow Family: John, John and Agnes
Agnes was an interesting extrovert and made lively company. She would read 'the tea leaves' to foretell the future, and practiced phrenology, the reading of the 'shape and bumps' on people's head to analyse their talents and charaterisitics. She herself had the gift of the gab, and her husband John had a very quiet temperament.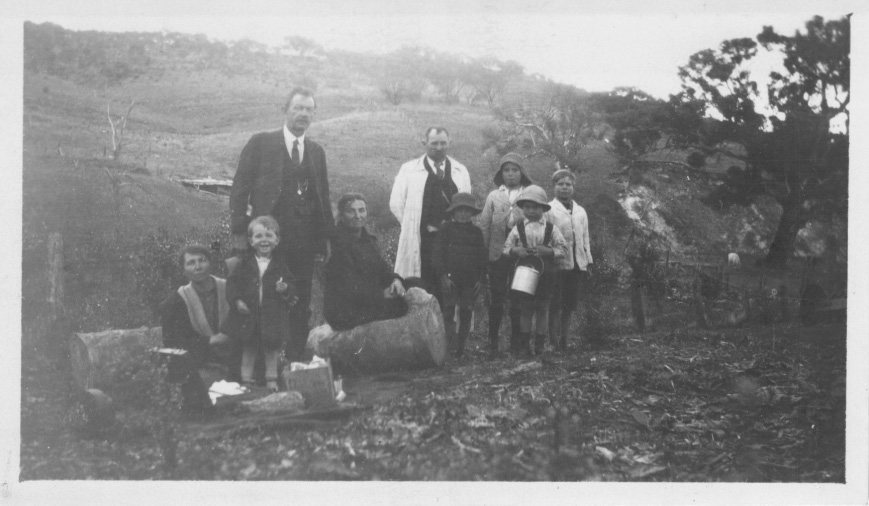 Agnes,'Jack' and John Bucklow on an outing in South Australia. Richard Becker in white coat.
The Beckers
Agnes had become close friends with her niece Emma Becker. There was only two years difference in their ages. Agnes would visit the Beckers at "The Willows". Even after Agnes had married John Bucklow and she lived in Melbourne they made trips to "The Willows" in South Australia to visit the Becker family.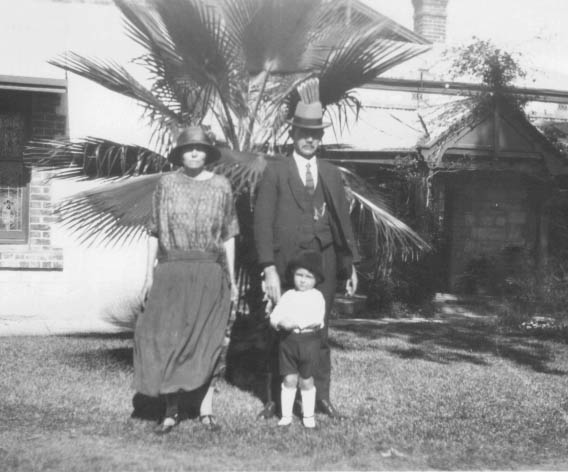 The Bucklow family on the Becker lawn at 'The Willows'
Rita Becker
In about 1922, after her confirmation at the end of the previous year, Rita Becker went from "The Willows" to Melbourne for a holiday with her (great) Auntie and Uncle Bucklow in Melbourne. At this time the Bucklows had a shoe shop. They took Rita to the main tourist spots and visited Ferntree Gully in the Dandenong Ranges, St Kilda and the beach, and they had a day out and took the ferry from Sorrento to Queenscliff. Rita became friends with their young son John, about 10 years younger than Rita. The Beckers always knew young John as 'Jack'. Rita and Jack would stay in contact for the rest of their lives.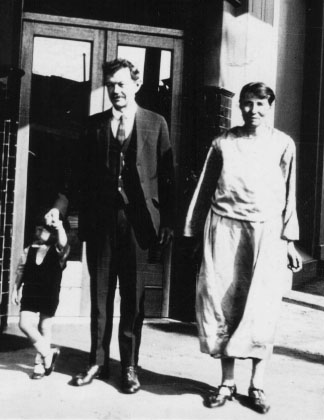 The Bucklows outside the Shoe Shop Doors
Golden Wedding Floods
In late January 1941 the Bucklows went to South Australia to celebrate the 80th Birthday of her sister Pauline Zanker at "The Willows", but were held up by the worst floods in South Australia's recorded history. The Pine Creek flooded and caused havoc to the Becker farm. It flooded through "The Willows" home to a depth of almost 2 metres. A few days after the floods subsided the Noske Family were able to get together and clear a space for a family photo at "The Willows".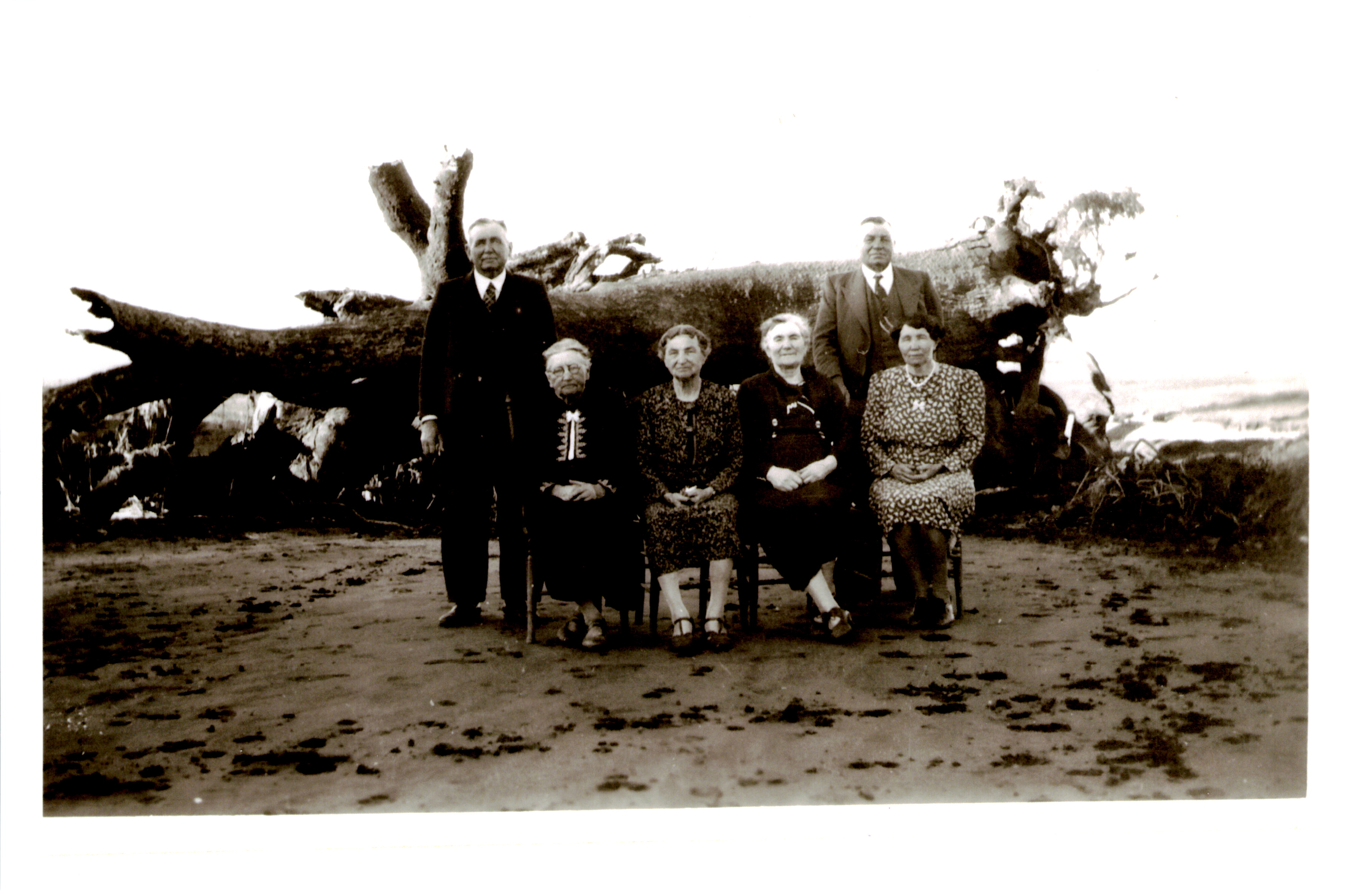 "The Willows" 80th Birthday: L to R: Walter Noske, 4 sisters – Pauline Zanker (80), Martha Zanker, Emma Havelberg, Agnes Bucklow; standing – Ted Noske.
Fitzroy Hotel
(Built in the 1850's. Originally called the "Leviathon", then the "Renown", and in 2013 is called the "Gertrude". It is on the corner of Gertrude and Napier streets).
On 21st January 1925 the following notice appeared in the Melbourne newspaper:
"APPLICATION for TRANSFER of LICENCE

I, Jinnie Cannon, the holder of a victualler's licence for Leviathon Hotel, at Gertrude street, Fitzroy, in the Fitzroy Licensing District, and I, John Bucklow, of 15 Johnson Street, Collingwood, hereby give notice that we will APPLY to the Licensing Court at Melbourne on Monday February 9, 1925, for the TRANSFER of the LICENCE TO THE SAID JOHN BUCKLOW. DATED JANUARY 30, 1925 JINNIE CANNON JOHN BUCKLOW"
This would have been an interesting experience as this is listed as Squizzy Taylor's haunt in Fitzroy until his death in 1927. Rex Becker remembers his (great) Uncle John Bucklow telling him that he kept a baseball bat handy under the bar to help him keep order in the hotel!
The Argus newspaper Melbourne, 1934
HOTEL LICENCES TRANSFERRED
Renown, Fitzroy. Agnes C Bucklow to Clara Ellen Davidson. Universal Fitzroy. 3 Nov 1934
APPLICATION for TRANSFER of LICENCE I, Agnes Cecilie Bucklow the holder of a Victualler's Licence for Renown Hotel at Gertrude St Fitzroy In the Collingwood Licensing District and I, Clare Ellen Davidson of 26 Alma rd Cam berwell hereby give notice thot we will APPLY to tho Licensing Court at Melbourne on Monday 12th November 1B34 for tho TRANSFER of the LICENCE to the sold Clara Ellen Davidson Dated 31st October 1934 AGNES CECILIE BUCKLOW CLARE ELLEN DAVIDSON
Other Interests in Melbourne
Melvin Becker recalled that John Bucklow's sister had a Deli in St Kilda. There was a famous Chevron hotel on St Kilda road where a Bucklow was the manager for many years, and for a time I assumed this could have been John Bucklow, but after John's death there were still advertisements in the newspaper for various staff and applications were to be made to Mr Bucklow at the Chevron hotel. John did have siblings in Victoria, but I have no information other than their names in a brief newspaper notice when they attended a family funeral. (K P Z)
Death of John Bucklow
8th April The Argus newspaper 1954
BUCKLOW, John. On April 6 (passed peacefully away), at his home, 469 Punt road, South Yarra, dearly beloved husband of Agnes, loving father of John, father-in law of Maxine, brother-in-law of Walter, Theodore, Martha, and Emma, aged 77 years, late of 327 High street, St. Kilda. (South Aus- tralian papers please copy.)

BUCKLOW. – The Funeral of the late Mr. JOHN BUCKLOW : will leave his home, 469 Punt road, South Yarra, THIS DAY (Thurs- day), at the conclusion of a ser- vice commencing at 2.50 p.m., for the Coburg Cemetery. W. G. APPS. & SONS.PTY. LTD..
Agnes Bucklow
I have no record of the death of Agnes. I would appreciate any additonal history of Agnes and John Bucklow. (K P Z)
Young John Bucklow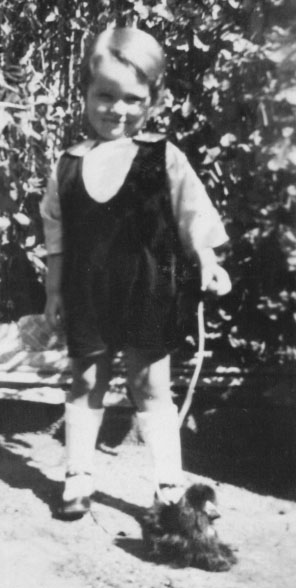 John Bucklow jnr.
John was the only child of Agnes and John Bucklow.
In 2012 Melvin and Rex Becker recalled that young 'Jack' Bucklow – as they knew him – had possibly grown up to be an artist and that maybe he had moved to Sydney.
On going through their sister Rita Zwar's Birthday book 25 years after Rita's death, her son Kevin noticed that she had included John Bucklow's Sydney address in the back of the book. On a family visit to Sydney after Christmas Kevin hoped he might find someone in John's street who might just remember John Bucklow. It was a long shot! Kevin's daughter Heidi drove him to the street where he called on the house. When Kevin mentioned the name "John Bucklow" the owner said, "You should go next door and ask my mother as John used to live here and my parents knew him!" His mother was most helpful even though it had been maybe 30 years since John had been their neighbour. In the following weeks she emailed the following information.
From Alice, about young John Bucklow
"I have spoken to a neighbour who confirmed that John was an artist, as he knew someone who had seen his paintings on the walls in his house."

"I remember John and his wife Maxine as good neighbours, pleasant and courteous. They came to our house for a neighbourhood party , probably thirty-five or forty years ago. Then they lived in Italy for some years, and had to return to have the health support as Maureen's Huntington's chorea progressed. They had known not to have children because it was in her family.

They built low stone walls and planted pencil pine trees, reminding them of Italy. John cared for Maxine at home with patience and love in the years until her death, which would have been very difficult for him. He was sure that she was still better with him, that there could be some sense of recognition, and would not put her into care.

Subsequently he had Parkinsons' Disease, and lived at home with a carer who got him to sign the house over to him. I believe that he wanted to leave his books (paintings?) to a university. He then was in a nursing home, I think in Gladesville or Ryde."
Sydney University
A search on Google turned up a Maxine Bucklow who was a senior lecturer in industrial relations at the University of Sydney – c. 1950's and 60's. The university now has an annual scholarship in her name. I shall look for information from the university to confirm that this is our John Bucklow's wife.
Maxine Bucklow Memorial Prize for Organisational Studies

"Established in 2004 by a donation of $5,000 from the 50th Anniversary of the Teaching of Industrial Relations and Organisational Studies at the University of Sydney. The prize honours the work of Dr Maxine Bucklow who was a founding member of the Industrial Relations and Organisational Studies group at the University of Sydney. The award will be made for meritorious performance by a student in the third year honours program in Work & Organisational Studies who is proceeding to fourth year Honours. The selection of the student who is awarded the prize will be made by the recommendation of the Chair of Discipline to the full-time staff of Work & Organisational Studies on the basis of the students results in third year Honours." University of Sydney
Maxine Bucklow part of a team
"On August 8 1997 Geoff Sorrell died after a long battle with emphysema. Geoff, a New Zealander by birth and a lawyer by training, was active in the public sector unionism in New Zealand before coming to take up a post in the Economics Faculty at the University Sydney. With Kingsley Laffer and Maxine Bucklow, Geoff helped to build the field of industrial relations at the university through the 1960s and culminating in the establishment of a separate Department in 1974."
Art
John Bucklow was a finalist in the Sir John Sulimann art competition in 1956, and a finalist in the Wynne competition the following year.
I assume this was 'our' John Bucklow, and hope to find confirmation of this in future. Any help would be much appreciated!
I haven't been able to find any birth or death notices on Trove for either John or Maxine.
I would like to pay a special tribute to John and Maxine. Their considerate and unselfish decision not to have any children marks the end of this line of the Leske / Noske Family.
© Kevin P Zwar